Caregivers for seniors with memory loss understand the many challenges of assisting a senior when their cognitive abilities are changing. Memory loss caregiver training teaches tools to implement to make the caregiver journey smoother for both the caregiver and the senior.
Memory loss senior care training involves understanding the varying ways memory loss impacts someone and learning about the different types of memory loss.
Alzheimer's disease impacts the largest number of seniors and causes confusion about person, place and time.
Vascular dementia memory loss is the second most common type. Some diseases, such as Parkinson's disease, also may result in memory loss.
No cures exists right now for memory loss, but some medications may slow the progression.
Music may be one of the very best therapies for caregiving.  And other simple-to-implement tools have been created as researchers continue to study what works, such as serving meals on a solid blue plate rather than a china plate with patterns that may add to confusion. View the meal plates to see the difference this makes.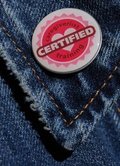 Senior care companies and individual caregivers may obtain digital caregiver training meeting state guidelines with a very easy-to-use training platform that is smart phone and tablet friendly at Caregiver Training University and apply for jobs at Caregiverlist.